I saw the 'Tell me Thursday' post over at
Crooks and Crazies
so I thought I would play along.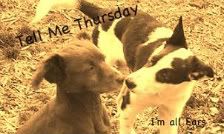 And here are the questions for today:
1. In agility training (okay, so they had sheepdog training but I think it would be complete chaos if I ever let Starbuck chase sheep...), how do you keep from taking yourself, your dog, your lack of progress too seriously?
Let's see... typically I tend to trip over myself so my instructor (and/or husband) is there to make fun of me :) Starbuck will jump on me and try to make out with me which always cracks me up. Nari will 'yell' at me when I mess up which is the cutest! And then there is the occasional mimosa/sweet tea vodka and lemonade practice that is always entertaining - the husband and instructor love watching me during these. After one of those I once tried to show my husband how awesomely agile I was while jumping over a 3 foot high baby gate - he has since remembered to hide the baby gates after a mimosa practice :)
2. How many crates do you have? For reals.
Ummm... I have 3 dogs so that means I only have 10 crates :)
3. How do you keep your dogs in shape?
We do a lot of hiking - probably 2-5 miles a day as long as the weather is nice. Also some fast walking on the inclined treadmill. The girls also like to work on their abs with the exercise ball:
And yes - Nari really is balancing on the exercise ball all by herself! The girls can also jump up on the ball by themselves, I just have to hold the ball steady for them while they get on.
And of course they love to get in a little wrestling and trick work:
4. Who is your favorite movie/tv star eye candy at the moment?
Currently - Alexander Skarsgard who plays Eric on True Blood - especially good this season!
5. What is your livestock situation?
The girls quite enjoy herding cats at the moment! Here is Nari checking out a kitty at Petsmart and making sure it doesn't try to get away with anything!
That was fun! Go over and check out Crooks and Crazies post and play along!
By the way, anyone notice how Blogger puts in all these random spaces?