It's time for another Tell me Thursday from Crooks and Crazies!! So.... I'm a little late on this one, but it's still Thursday, right?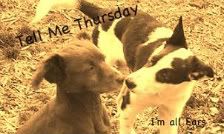 Anyway... on to the questions!
1. How do you teach recalls to your dogs?
We play lots of games - chase, restrained recalls, more chase. It's actually a lot of work with dogs that are northern breeds as they love to run wild and chase anything and everything. I did Susan Garret's 5 Minute Formula to a Brilliant Recall this summer. We got through most of the exercises and the girls have a pretty decent recall now. It was a lot of fun, lots of different games to work on recalls and getting your dog to work with you. I think I will always be going over the games in that course to continue the recall work. Especially since Starbuck has an especially high prey drive.
2. What is your favorite restaurant or type of food?
Cheese curds and frozen custard!! And fresh brats with cheese in them :)
And that is a picture of a beautiful cheddar brat (boiled in beer and grilled) in front of a tree shaped like a bear in WI!!! Pretty awesome, right?
Another favorite would be Little Italy in NYC - when I was in grad school I would just hop on a train and spend my afternoons studying with a glass of wine eating awesome food in Little Italy - pretty much the only good thing about going to grad school in NJ.
3. What is your favorite interest outside of dogs/livestock/sports?
Love to go hiking (usually go with the dogs, so I'm not sure this one counts). I also like to make my own jewelry and thank you cards if I have free time.
And what do you think of my fabulous neighborhood hiking gear this evening!! That's right, I am looking oh so stylish in my vintage baggy orange Generac Generator t-shirt, black and white Adidas tennis skirt, purple Mary Jane Crocs and red Swiss Gear hiking stick. And those are white poop bags with orange spots (aren't poop bags supposed to match your shirt??). I know - all y'all are totally jealous of this outfit :) (Okay, so maybe I'm totally lazy when we hike around the neighborhood. I think Starbuck and Alpha are so embarrassed that they aren't even looking at me in this picture.)
4. Describe your path from where you started out to where you are now!
This question was suggested by Pippin.
Let's see... Starbuck was my very first dog (she'll be 4 in Jan.). Ever. There was a year waiting list for her but the breeder said she would move us to the top of the list if we agreed to get an agility title on her. Since I am impatient, I said sure and thus the madness started! I found an awesome trainer, Ace Russell, down here and the rest was history. Starbuck got her first agility title when she was 1.5 years old, then something happened and she refused to do agility with me. Along came Nari (got another dog because Starbuck was lonely...) who wanted to do anything I was doing so she took over as my main agility dog. With Nari, she lets me make mistakes while making sure to yell at me if I do something wrong. Cracks me up. Nari loves agility and she can be quite sassy.
5. Is there a dog that you raised that, if you knew then what you know now, you would have raised them differently?
Question posed by Jodi.
I've definitely made mistakes with all of them, but with Starbuck being my very first dog I definitely made the most mistakes with her.
I think I tried too hard and took training way too seriously with her so one day she just decided that she didn't want anything to do with me at agility. Broke my heart. Not because she didn't want to do agility but because I had made it so unpleasant for her. I gave her lots of time off and vowed to never again take training (or trialing) too seriously. We just focused on trick training and having fun, picked up flyball and one day at Nari's practice Starbuck decided she wanted to try again. Well... Starbuck seems to really enjoy agility again. We don't practice that much and she's just starting to trial but she is having fun again and that is all that matters to me.