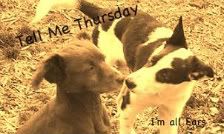 That's right, another week goes by and another Tell Me Thursday brought to you by Laura at Crooks and Crazies!! And now onto the questions for week 8!
1. What is the biggest thing that grossed you out over the past week?
So, I was at our holistic vet this week and she's been teaching us doggie massage, acupuncture, first aid, etc., and one of the things she was telling us about was these super nasty bugs to look out for - of course I've already forgotten what they are called. They are the ones that lay eggs under your (or your dog's) skin and then when they hatch they are these nasty wormy things that poke out of a hole in the skin to breath. OMG - SO DISGUSTING!!! My dogs better not get those because I think I would die - SO NASTY!!!
2. What do you feed your dogs?
We feed a combo of Orijen (switch between the regular and the fish) and homemade food suggested by our holistic vet. The woman at the kennel where we board our dogs said the homemade food "smelled like death" but the dogs LOVE it. I actually use it as a treat while we are training. It's just ground beef, veggies, sweet potatoes, some fruit and supplements so I'm not sure how it ends up smelling like death sometimes.
And sometimes I go to the doggie bakery and get them awesome treats like these mini pizzas:
3. If you could move anywhere where would you live?
Okay, this is probably lame to most of you but Madison, WI. We used to live there and I love how you can take public transportation anywhere in the city or everyone bikes. It's pretty dog friendly, reminds me of european cities. So I guess if not Madison, WI than somewhere in europe - I really like Belgium when I visited.
4. What is the funniest thought that occurred to you (or thing that happened to you) this week?
So I was walking our 3 leashed, small dogs around the neighborhood the other day. And some lovely neighbor of mine decided to walk their dog off-leash (totally illegal here). Their off-leash dog decided to run up to my dogs to say hello, but unfortunately since my dogs had been attacked by 2 off-leash boxers a couple of months ago they started freaking out! The neighbor then tried to call their dog back but of course their dog had no recall. So while I was trying to block the off-leash dog from getting to my dogs, all 3 of my dogs decided it was just best to run around me in circles, while screaming their little heads off and totally hog tie me!! Once they had securely fastened my legs together with their leashes, I fell over and started rolling down the hill with them attached to me! Since the neighbor lady still hadn't successfully called her dog away from us she started beating her dog with an umbrella!! By this time I was at the bottom of the hill in someone else's yard laughing my butt off (all of our dogs were fine) while the neighbor lady was so embarrassed from having to beat her poor dog with an umbrella. No worries - the dog was pretty friendly (and the beating was just a light shooing, not actually hurting the dog) but mine are still trying to get over being jumped by two boxers.
Anyway, here is what the girls looked like prior to the ridiculous event:
Okay, so I totally posted this photo the other day - but they look so darn cute in their harnesses. Why is it always the people who shouldn't be walking their dogs off-leash are the first to do so? Ugh!!
5. If you couldn't have your breed of choice, what would be next on your list?
Lately I've been thinking about getting a Jack Russell or Sheltie or possibly a Pyrenean Shepherd. Basically a small breed good for agility - I like dogs that are cute and fast.
And here is a random cute picture of Nari snuggled in a kitty bed with a little toy husky:
Crazy girl!